10% OF THE COST OF MY PAINTINGS AND MURALS WILL GO TO THE HOMELESS OF MARTIN, CO.
I paint murals in Lantana, Lake Worth, West Palm Beach, Palm Beach Gardens, North Palm Beach, Jupiter, Juno Beach, Stuart, Jensen Beach, Port St. Lucie, North Palm Beach, Florida.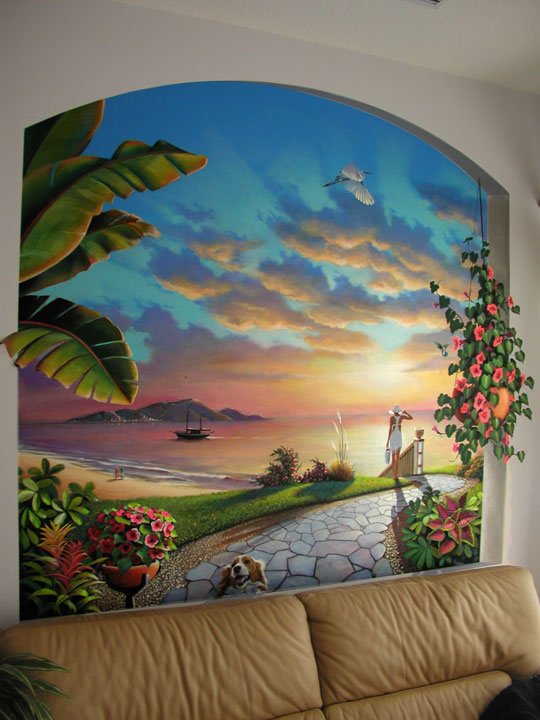 Beach Sunset Mural

---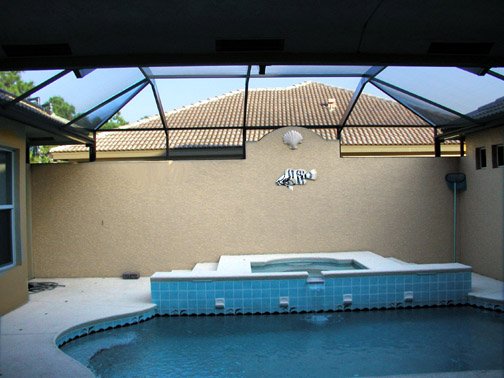 BEFORE / AFTER
It's fun changing something very familiar (like a wall) into a separate reality, something fresh and new.
I do not make a profit on a mural. WHY?
There are no pop-up ads on this site and if there were there would be hell to pay. All of the images on this site are free to copy, publish and expound upon.. The reward for me is in the doing.

---
CONTACT INFO AND WHAT TO EXPECT
Please email me when possible or leave a message at 772-219-3604. It is important that you remember I do not carry a cell phone while working. I will call once I return from painting.
All my art is hand painted using acrylic paints. I make no profit on my work. I don't care about advertising or promoting myself beyond this simple website (portfolio).
The Quote given for a mural is done by estimating time to completion of a specific idea. You will know the final cost when I give you a quote. If it takes longer than expected, you pay no more. No small print.
PRICING:
1 day = $140.00
Murals take from 8 to 15 days depending on detail and size.
Voila, you have the cost of a mural. No added fees. I just paid a guy $300.00 to clean the tiles on our roof. It took him 2 hours. This is my way to fight the Capitalist way of thinking.
I can't express how disfunctional Earth is due to the concept of money. If I could I would paint for free. I love any size mural and if an idea is feasible I am willing to do it.

---
I always appreciate anyone's trust in allowing me to paint.
EMAIL IS MOST RELIABLE WHEN COMMUNICATING WITH ME.

TOP
I am a West Palm Beach Artist, Lake Worth Murals, Jupiter Artist, Palm Beach Artist, North Palm Beach Artist, Lake Park Artist, Stuart FL Artist, Juno Beach Artist, Palm Beach Gardens Artist, Boca Raton Artist, Wellington Artist, South Florida Artist and a Florida Artist.
I Paint Tropical Murals in Florida,
West Palm Beach murals, Murals Jupiter, Murals Lake Worth, Murals North Palm Beach, Murals Palm Beach, Murals Beach Gardens, Murals Port St. Lucie, Murals USA, Murals Juno Beach, Murals Stuart, Murals Florida, Murals Wellington, Stuart Murals, Palm Beach Murals, Lake Worth Murals, North Palm Beach Murals, Palm Beach Gardens Murals, Jupiter Murals, Boca Raton Murals, Boynton Beach Murals, Juno Beach Murals, Lantana Murals, Murals Europe, Murals China, Murals Asia, yachts, Army Murals, Florida Murals, Beach Murals, Tuscany Murals, Sports Murals, Children's Murals, Fantasy Murals, Artist West Palm Beach, Artist Lake Worth, Artist Palm Beach, Artist Jupiter, Artist Stuart, Artist Palm Beach Gardens