1.
The Good
- A mural can be hand painted on smooth walls, textured walls or off-site on canvas.
2. The Good - There is No charge for visits or preliminary work. You can tell me about your ideas and I will come up with one preliminary and price.
3. The Good - I make no profit on a mural and 10% of the mural cost will go to House of Hope in Stuart, FL.
4. The Good - Since I do not carry a cell phone it is better to use email to contact me.
5. The Good - When I give you a quote I will not bother you with follow-up phone calls because you shouldn't be pressured in any way.
6. Limitations - My murals are in full color using high contrast. To mimic reality one must use high contrast.
I do not copy artwork or do cartoon images for children. Children deserve to grow into their murals.
I am not interested in decorative color schemes or those decorative baroque landscapes that I like to call "Palm Beach Drab" because they literally become wallpaper and out of mind.

The Quote I give for a mural is done by estimating time to completion of a specific idea. You will know exactly what I will charge when I give you a quote. If it takes longer, you pay no more. No small print.

---
TIME SAMPLES BELOW
Anthony's Mural 3/4 Perspective. (3 days)

---

(5 days)

---

Painting architectural elements takes time (12 days)


Painted during evenings, with borrowed electricity
(12 days)

---
(3 1/2 weeks) 6 hour work window at night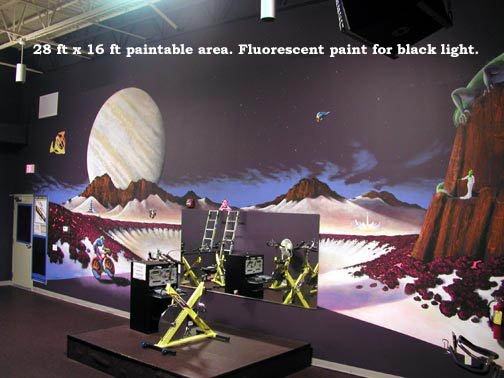 (4 weeks evenings only) For Black Light